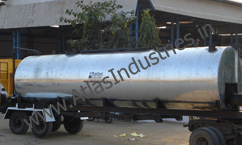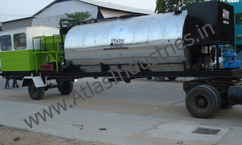 PORTABLE BITUMEN TANK
For portable asphalt drum mix plants, the bitumen tanks also have to be portable to enable quick shifting of the asphalt machine. We have made mobile bitumen tanks for asphalt drum mixers on sturdy chassis.

Standard tanks of Atlas portable continuous asphalt mix plant comes with automatic pressure Jet oil burner, bitumen pump with jacketed oil body, bitumen metering system with variable speed motor and hot oil circulation motor.

Supplementary bitumen tanks can also be provided with the portable asphalt drum mixing plant.